BONUS: Dalriada Gaelic - Back From The Brink
June 8th, 2018
·
25 mins 12 secs
Bonus Language Stories?! Yup. Woohoo! This episode, I chat with Àdhamh Ó Broin who is working to bring Dalriada Gaelic, an endangered dialect of Scottish Gaelic, back from the brink.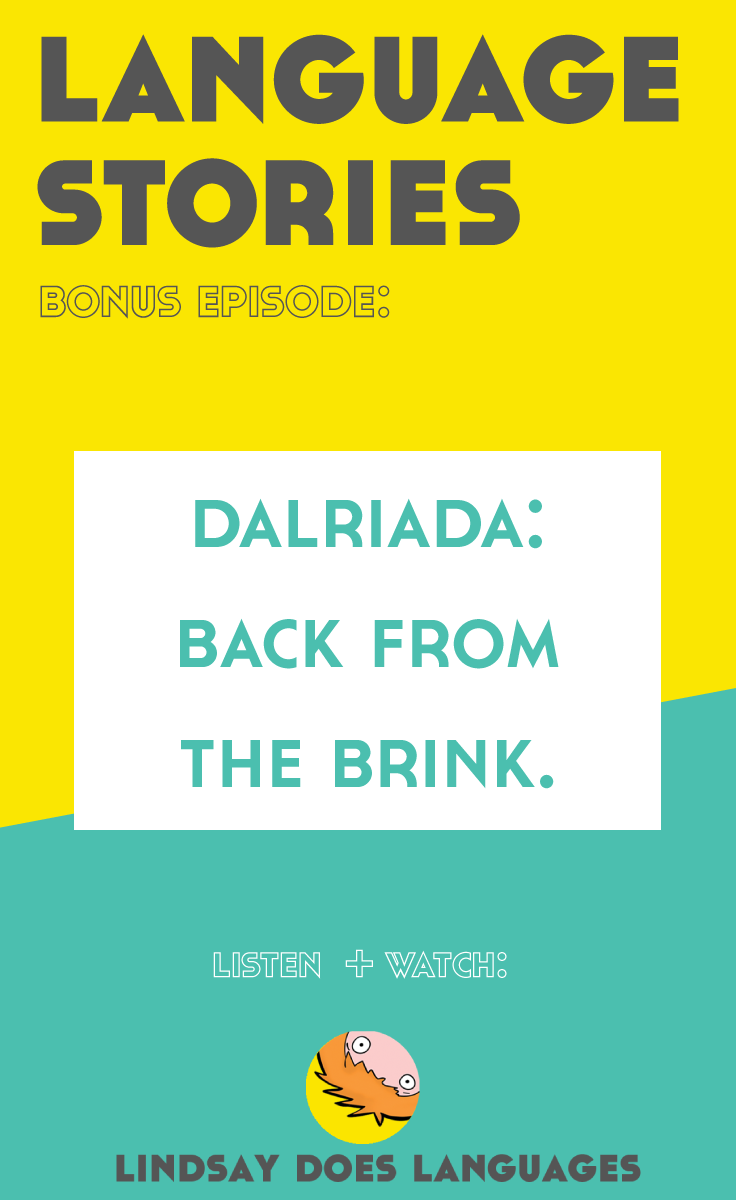 Why Dalriada Gaelic?
When I first reached out asking for suggestions of language stories to cover in future episodes, my friend Maureen Millward (who you may know from her blog, language events or helping me with 9 Reasons to Learn Scottish Gaelic) told me about Àdhamh Ó Broin and what he's done with Dalriada Gaelic, I couldn't wait to speak with him and learn more.
Àdhamh has well and truly brought this dialect back from the brink.
The Video
Featuring
Àdhamh Ó Broin - As well as teaching, translating and working as the Gaelic language consultant for the TV show Outlander, Àdhamh has revived the dialect of Dalriada Gaelic within his own family. To find out more, check out Dalriada.scot.
Further Reading + Resources
Àdhamh Ó Broin - contact Àdhamh directly to learn more about his work in general or enquire about teaching and tours.
Gáidhlig Dhail Riada Facebook Page - Àdhamh regularly updates this page with real life vocab and updates on when Dalriada Immersion Weekends are running.
Dalriada Gaelic – Growing an Endangered Gaelic Dialect - read Maureen's blog post recounting her immersion weekend.
LearnGaelic.net - great place to start to learn some Scottish Gaelic (not the Dalriada dialect but would help to give you a foundation in the language)
Learner Links - more links to help you learn Scottish Gaelic (again, the language in general here not the dialect!)
Support The Show
The best thing you can do right now to support the project is threefold, and if you've ever listened to any podcast before, I'm sure you'll be familiar with what I'm about to say!
Subscribe - by subscribing to the Language Stories podcast in your favourite place and YouTube for the sister videos, you're going to keep up with all future episodes. Woop!

Review - when it comes to the tech stuff, reviews are pretty important. Reviews help to tell iTunes that people like the podcast, and that helps to raise the profile so that new people can find it easily. Yay!

Tell a friend - word of mouth still wins! If you know someone who would love Language Stories, tell them about it. And if they're new to podcasts, walk them through the process to subscribe them. Woohoo!
To make it as easy as possible to share the podcast, click here to tweet about episode.
Share Your Story
If you have a Language Story you'd love to share, or if you know someone that does, get in touch.
I always love to hear from you! Your feedback helps to shape future episodes so thank you.
How did you enjoy this episode of Language Stories? Share your thoughts in the comments below!