Nicaraguan Sign Language
April 27th, 2018
·
27 mins 15 secs
Every language has a unique story, but Nicaraguan Sign Language is pretty special. A language emerging in the 80s amidst a revolution? In this episode of Language Stories, we're exploring the story of Nicaraguan Sign Language.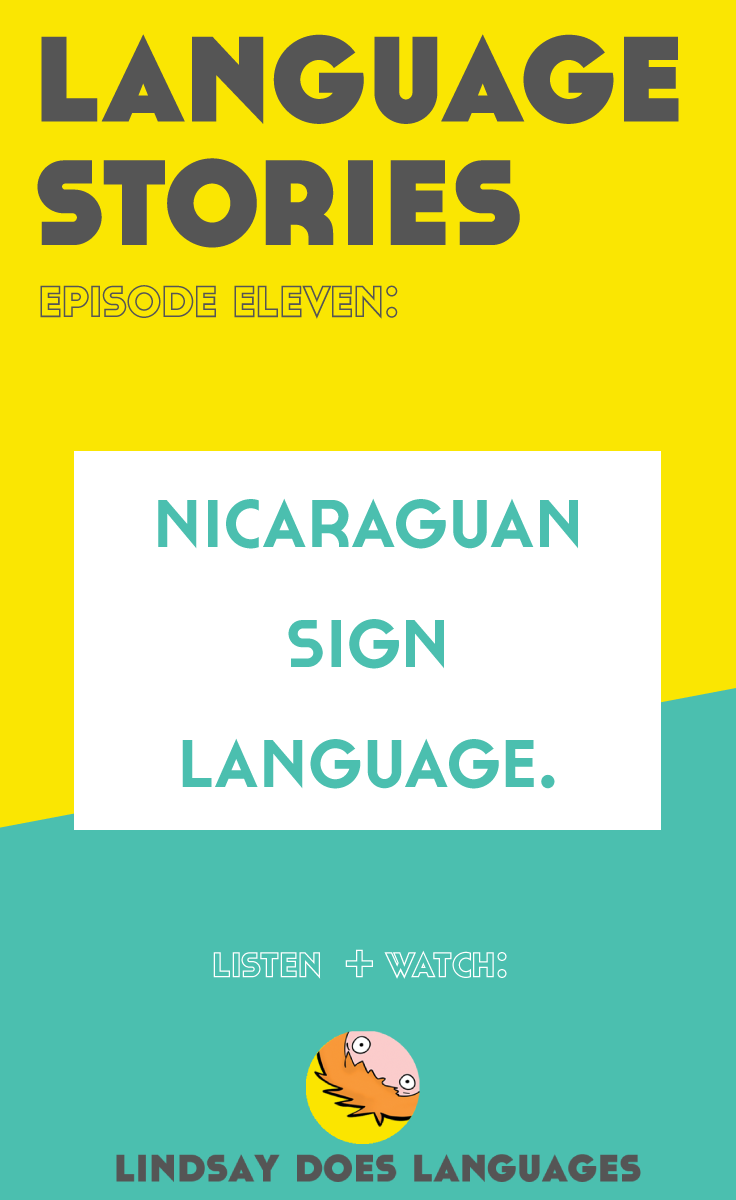 Why Nicaraguan Sign Language?
There's more than one Sign Language in the world - 137 in fact, according to Ethnologue, with some other estimates of up to 300.
They all have a unique story, just like any other language. However, what makes Nicaraguan Sign Language particularly curious is how "new" it is.
This story is phenomenal, so I won't ruin it with any spoilers here! Watch + listen below to find out more.
Featuring
James Kegl - James and his wife Judy have been involved in Nicaraguan Sign Language for many years now. They now are based in the USA but run Nicaraguan Sign Language Projects.
Tio Antonio - Antonio, a chef originally from Valencia, Spain, lives and works in Granada, Nicaragua running the Cafe de las Sonrisas and other projects providing employment opportunities for the Deaf community in the city.
Further Reading + Resources
Oralism - an explanation on oralism as a teaching methodology.
Psychological Effects of Oralism - a study on the psychological effects of oralism
Hammocks from Cafe de las Sonrisas - learn more about Tio Antonio, Cafe de las Sonrisas and treat yourself to one of their handmade hammocks if you fancy!
Nicaraguan Sign Language Projects - learn more about the work James and his wife Judy do.
Visual Dictionary - a dictionary for Nicaraguan Sign Language
A Life Without Words - a documentary about bringing Nicaraguan Sign Language to rural communities.
Sign: A Game About Being Understood - a silent game based on the emergence of Nicaraguan Sign Language.
Support The Show
The best thing you can do right now to support the project is threefold, and if you've ever listened to any podcast before, I'm sure you'll be familiar with what I'm about to say!
Subscribe - by subscribing to the Language Stories podcast in your favourite place and YouTube for the sister videos, you're going to keep up with all future episodes. Woop!

Review - when it comes to the tech stuff, reviews are pretty important. Reviews help to tell iTunes that people like the podcast, and that helps to raise the profile so that new people can find it easily. Yay!

Tell a friend - word of mouth still wins! If you know someone who would love Language Stories, tell them about it. And if they're new to podcasts, walk them through the process to subscribe them. Woohoo!
To make it as easy as possible to share the podcast, click here to tweet about episode.
Share Your Story
If you have a Language Story you'd love to share, or if you know someone that does, get in touch.
I always love to hear from you! Your feedback helps to shape future episodes so thank you.
How did you enjoy this episode of Language Stories? Share your thoughts in the comments below!